When choosing the type of flooring for a room, it is important to plan out how the room will be used in order to choose the correct flooring. In many homes, laminate floors are used for bedrooms and kitchens. Laminate planks have many styles from wood look to stone look, to accommodate preferences for a wide range of customers. After selecting and purchasing laminate planks, the next step naturally becomes installing them into the room. This page from H & R Carpets and Flooring will provide guidance for the installation process!
Before doing any flooring installation on your own, it is always important to check with the manufacturer's approved guidelines and confirm whether or not the installation is covered by warranty. This will help avoid any disputes related to manufacturer warranties.
To install laminate flooring, simplify the process into 2 phases:
1. Preparing the Laminate Flooring Area
2. Laying Down the Laminate Boards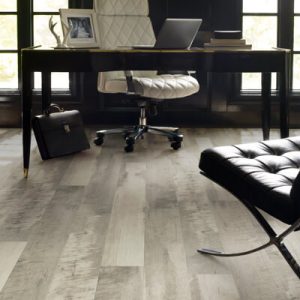 Preparing the Laminate Flooring Area
To acclimate the laminate boards with the room, place unopened packages in the room for about 48 hours as they adjust to the temperature and humidity. This helps minimize any shrinkage or expansion that occurs when the boards react to the atmosphere. During this time, check the moisture levels to confirm that the floor is dry. The sub-floor moisture content should not be higher than 1% of the Protimeter prong test scale. The humidity level should stay between 45% to 65% relative humidity.
A final checkup will verify that the sub-floor is level. After finishing these steps, it is time to clean the floor from any small objects on the surface. Once cleaned, lay down a moisture barrier for the floor. The barrier can be a plastic lining which will be covered by the laminate. Avoid overlapping, which causes the floor to rise.
The last step in preparation is to lay down the padding. Most padding and plastic come connected together. If yours does not, cover the plastic lining with a foam flooring padding. The padding will prevent residue from rocks or sand while preventing creaking sounds when people walk on the floor. Do not let the foam overlap with one another.