Hardwood Flooring
Hardwood floors have been in homes for centuries, and they remain as popular today as ever. A stylish and versatile solution, hardwood flooring features natural strength and beauty. Each plank is embedded with individual grains and knots that make your floor a truly unique piece of art. With the proper care, the character and charm of a natural hardwood floor will last for many decades.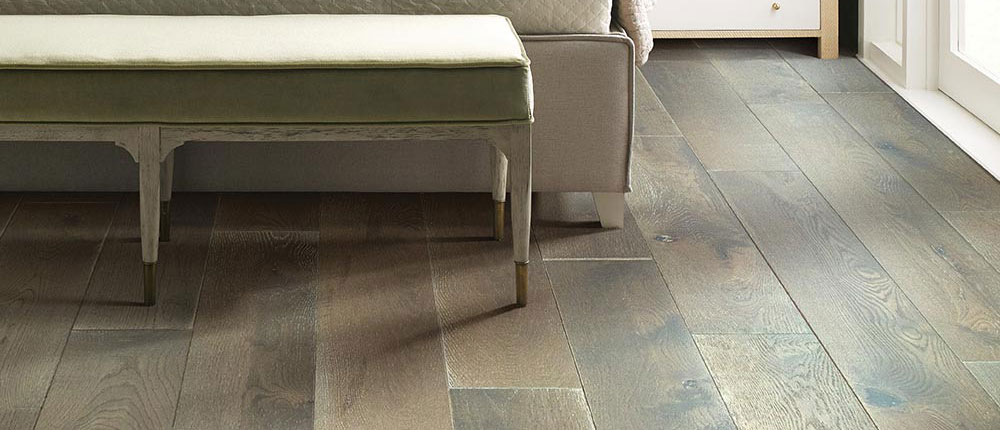 Find out more about what you can do to keep your new hardwood floor looking its best.
The Basics of Hardwood Flooring
Many varieties of hardwood are available from H & R Carpets and Flooring, each with different characteristics specific to the species from which the floors are made. You'll find variations in the appearance of mineral streaks and wood grains, as well as the lightness or darkness of each plank. Some of the more common species of trees used to create hardwood floors include:
Light Woods
Dark Woods
Cherry
Walnut
Mahogany
Hickory
H & R Carpets and Flooring is your leading source for hardwood floors in Waunakee, WI and the surrounding community. Many of our customers take pride in supporting local businesses, and some prefer products made from domestic hardwoods – those species grown in the US. Common domestic hardwood which include high quality maple, oak, American cherry, American walnut, pine and hickory trees grown here on American soil.
If you're looking for something more exotic, some common choices include mahogany, bamboo, Brazilian cherry and Brazilian walnut. None of these species lists are all-inclusive, but you'll find many of them in our Waunakee showroom!
Grading: Hardwood vs. Softwood
You can sort hardwood species even further by measuring the wood's natural hardness, referred to as the grading. There are two broad grading categories:
Hardwoods
Better able to stand up to heavy foot traffic
More longevity
Usually naturally darker wood
Typically more expensive up front
Hardwood examples: maple, oak, walnut
Softwoods
Softer and more flexible than hardwoods
Increased risk of scratches, dents and dings
Usually naturally lighter wood
Less expensive up front
Softwood examples: pine, spruce
Solid vs. Engineered Hardwood
Yet another distinction is the difference between solid and engineered hardwood floors.
Solid hardwood is what is traditionally thought of as hardwood flooring. As you might guess from the name, each plank is solid, manufactured from a single piece of harvested wood. Solid hardwood planks are usually ¾-inch thick, allowing for repeated refinishing over the lifetime of the floors.
Engineered hardwood, on the other hand, is manufactured using several pieces of wood layered together into a single plank. Typically, this plank will consist of a thin piece of solid hardwood on top of a thicker layer of high-quality plywood or other wood composite. Because the surface layer is so thin, engineered wood can only be sanded once or twice before needing to be replaced completely.
Distressed style hardwood floors
One especially unique look that you can achieve with hardwood is the appearance of a naturally worn-in antique floor – even if the floor itself is brand new! Certain manufacturing processes can give hardwood the look of reclaimed wood – a style that is much sought-after, but not always easy to obtain. Best of all, these modern techniques bring the price of distressed wood looks down significantly, while adding another layer of customization by allowing shoppers to narrow down the exact wood color, species and look they want right out of the box.
You'll find distressed hardwood floors in looks such as hand-scraped and wire-brushed, both of which are perfect for farmhouse, rustic or country-inspired home designs. Talk to our local Waunakee flooring experts here at H & R Carpets and Flooring and learn more about the differences between each style!
Do you need underlayment for hardwood floors?
The final piece of the hardwood puzzle is also the first one – underlayment, laid down before your floors are even installed. This component plays a critical role in the health and performance of your hardwood floors.
Underlayment is not technically necessary, and there may be some scenarios in which you shouldn't use it – but generally, we'll always recommend it. Why?
It evens out subfloor imperfections that could damage your hardwood later
It cushions your steps and reduces noise when walking
It warms hardwood and helps insulate your floors
It adds resistance to moisture, key for porous wood floors
If you still have questions about hardwood flooring, we're here! Feel free to contact us online or bring your questions to our experts at the H & R Carpets and Flooring showroom in Waunakee, WI!