Tile Flooring (Traditional Ceramic & Porcelain)
Natural minerals, including various types of stone and clay, are used to create flooring tile.
Ceramic tile is made from clay, superheated under pressure into a rigid material of which there are two distinct types:
Traditional ceramic tile is typically made up of a combination of white, red and brown clays.
Porcelain tile contains feldspar in addition to clay, which transforms into a glasslike material when heated and pressurized. It has an extreme hardness and durability that exceeds traditional tiles.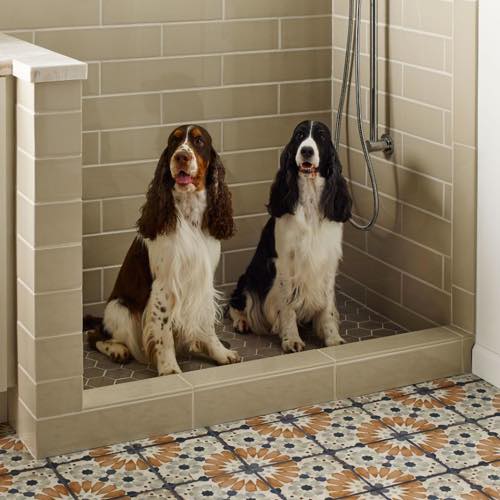 Discover the Basics of Tile and Stone
Tile comes in glazed and unglazed forms. Glazed tile is re-fired with glaze that hardens into a glass-like surface coating. This opens up the possibility for a huge array of color and pattern options while simultaneously giving the tile an added resistance to stains, scratches and moisture.
Natural stone tile can be produced from any number of natural minerals, including granite, marble, limestone, travertine, slate and others.
Granite is a volcanic rock. It's very dense, with a dark and speckled appearance. It naturally resists scratching, making it perfect for high-traffic rooms including kitchens.
Marble is a metamorphic stone with a famous elegant appearance that has long been popular in decorative, luxurious designs.
Limestone is a porous, sedimentary rock, not as dense or durable as other types of stone. One advantage it has is its ability to hold colorful stains.
Slate is one of the densest options available. Highly durable and usually very dark, it's perfect for areas that often deal with heavy foot traffic.
Where should you install tile?
Because tile is so versatile, it's well-suited for use in designing a variety of areas in the home. Commonly found in bathrooms, kitchens and outdoor areas, it is also frequently used on walls and in decorative backsplashes.
The best place to install your tile will depend largely on the type of tile you're working with – to that end, we recommend laying out your design first, then choosing a type of tile to match your needs. For example, you'll find that glazed porcelain or ceramic tile is typically more durable than most types of stone – especially porous rocks such as limestone. The latter is not ideal for areas that commonly experience moisture, humidity or liquid spills – such as bathrooms, kitchens and basements.
If you want to use tile outdoors for your patio or other area, keep the same considerations in mind. Avoid slippery surfaces and porous materials that would be more susceptible to weather damage.
Learn more about the practical and decorative potential of flooring and wall tile from the experts here at H & R Carpets and Flooring in Waunakee, WI. We're your local source for flooring of every type, available in-store, at-home, online or over the phone whenever you need us!