Carpet
The epitome of soft surface flooring solutions, carpet covers floors from wall to wall in its warm, cushiony comfort. An ever-popular choice when designing bedrooms, living rooms and other cozy spaces in the home, carpeting's many unique styles and benefits help it stand apart from its hard surface competitors. Our experts at H & R Carpets & Flooring are here to provide the info you need about carpet's features and the terms used to describe it, so you can make an informed choice before you buy.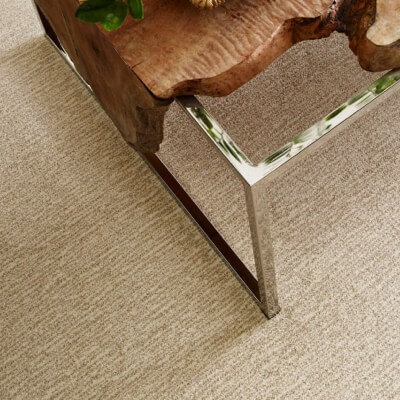 Discover the wide range of possibilities with carpet from H&R Carpets and Flooring.
The Basics of Carpeting from the Experts
Before you read on, here are a few key terms to know when talking about carpet:
• Texture: the look and feel of a carpet's fibers on the surface
• Twist: refers to the twist of individual strands of a cut pile carpet that give it strength
• Loop: un-sheared fibers are shaped in loops, giving carpets a unique look and texture
• Pattern: distinctive designs are formed when fibers of different lengths are combined
Alright – let's dive in!
Types of Carpet
When choosing a carpet, one of the first decisions you'll need to make is the type of pile you'd like to have in your space.
Cut Pile carpets have sheared, or cut, strands of fiber with exposed ends. This is the most popular type of carpet, available in different lengths and thicknesses that give each carpet a unique texture and feel underfoot. Cut pile carpet has a twist – if you're looking for extra durability and resistance to matting and crushing, you should consider a carpet with tighter, heavier twist.
Loop Pile is the opposite of cut, where fibers are left in un-sheared loops that create additional opportunities for pattern and texture to be added to your carpet. Looped fibers also create extra durability, and much like with cut pile fibers, heavily twisted loops give a carpet much better resistance to crushing and matting.
Not sure which to choose? Consider a hybrid option! Cut & Loop Pile intuitively combines the sheared fibers of cut pile with looped fibers into beautiful patterned and textured surfaces.
Carpet Styles
The types of carpeting can be segmented even further into various different styles.
A few of your options for cut pile include:
Saxony – Long, plush fibers with some extra twist.
Plush – Shorter and softer than Saxony, true plush carpet has a velvety feel.
Frieze – You may know it by another name – shag! Frieze is much less formal than other styles.
If you're leaning towards loop pile, some of the styles at your disposal include:
Level loop – Straightforward & simple style with repeated loops for single-height surface.
Sisal – Straight rows of textured, looped fibers make up the surface of carpet in this style.
Berber – Originally used for business spaces, Berber's chunky loops are now in many homes.
Features & Benefits of Carpet
At H & R Carpets and Flooring, you'll find a variety of carpet styles from trusted brands, such as Bellera High-Performance Carpet by Shaw Floors. Every carpet comes with its own set of built-in features, some of which you may not expect from carpeting.
Stain resistance
Bellera, along with many of our other nylon and polyester options from Shaw, feature the brand's own R2X Stain and Soil Resistance System. R2X repels liquids and other materials that may land on your carpet's surface. Other, similar systems may resist stains, but R2X stands out because of its full coverage of each fiber, rather than mere surface coverage.
Easy cleaning
Another Shaw innovation, LifeGuard Spill-Proof backing, works behind the scenes to add to your carpet's stain-resistant qualities.
Improved indoor air quality
You may have heard the myth that carpeting has a negative impact on allergy and asthma sufferers. Contrary to that belief, carpeting is actually an incredibly hypoallergenic solution in comparison to most hard surface flooring. Carpet will trap in allergens, keeping them from escaping into the air when disturbed. All you have to do is clean regularly!
Carpet Padding
The last piece of the puzzle is one that you may not even know is there! We're talking about carpet padding – a decision that is about as important as choosing the carpet itself!
While not technically a necessary part of having carpeting, at H & R Carpets and Flooring we always recommend carpet padding. Choosing the right padding is an investment in the health and longevity of your carpet, helping to protect it from wear while cushioning the surface and insulating from noise and temperature change.
If you're not sure where to begin with carpet padding, our flooring experts are happy to walk you through your options, which vary in their level of cushion and protection capabilities depending on your needs and budget.